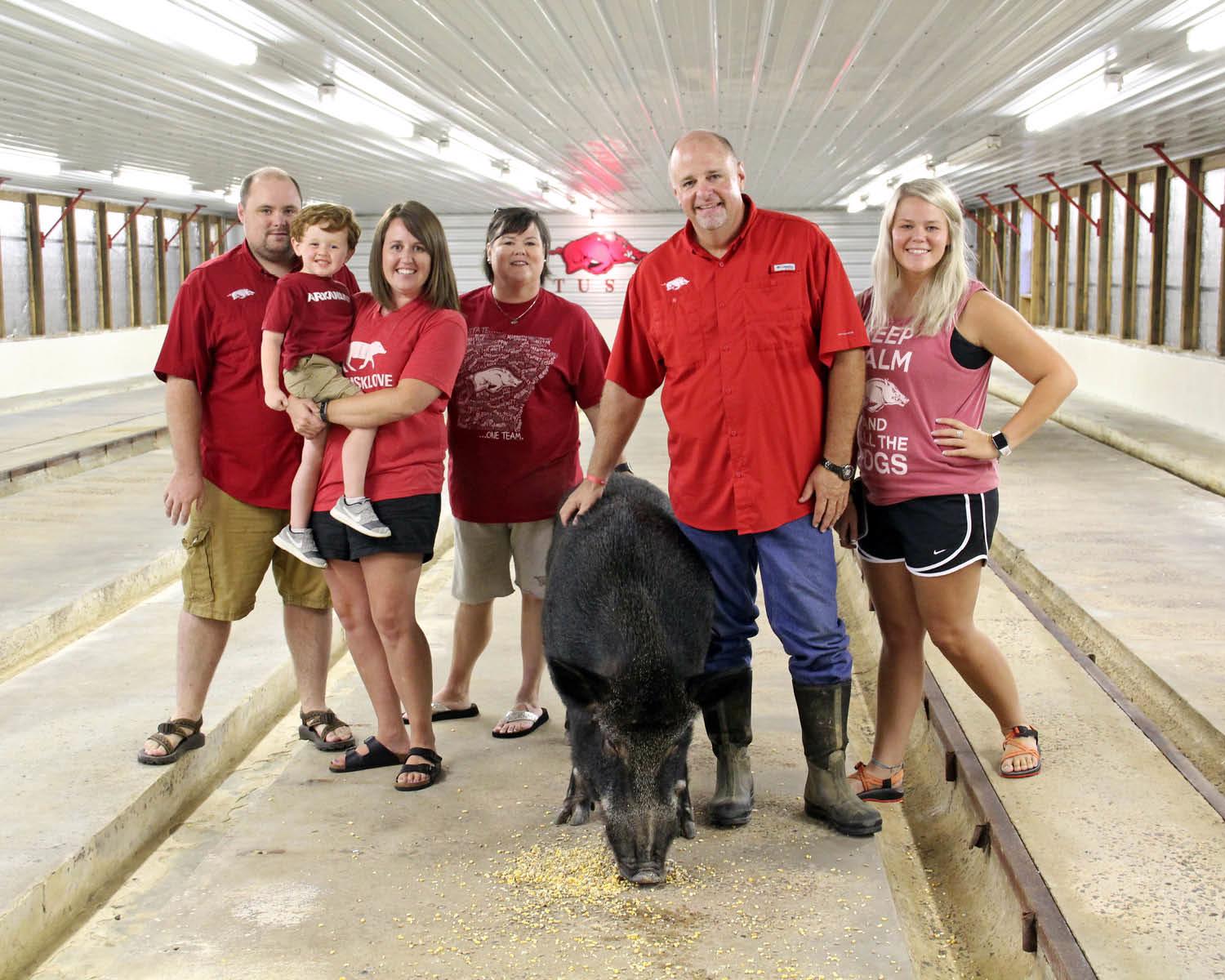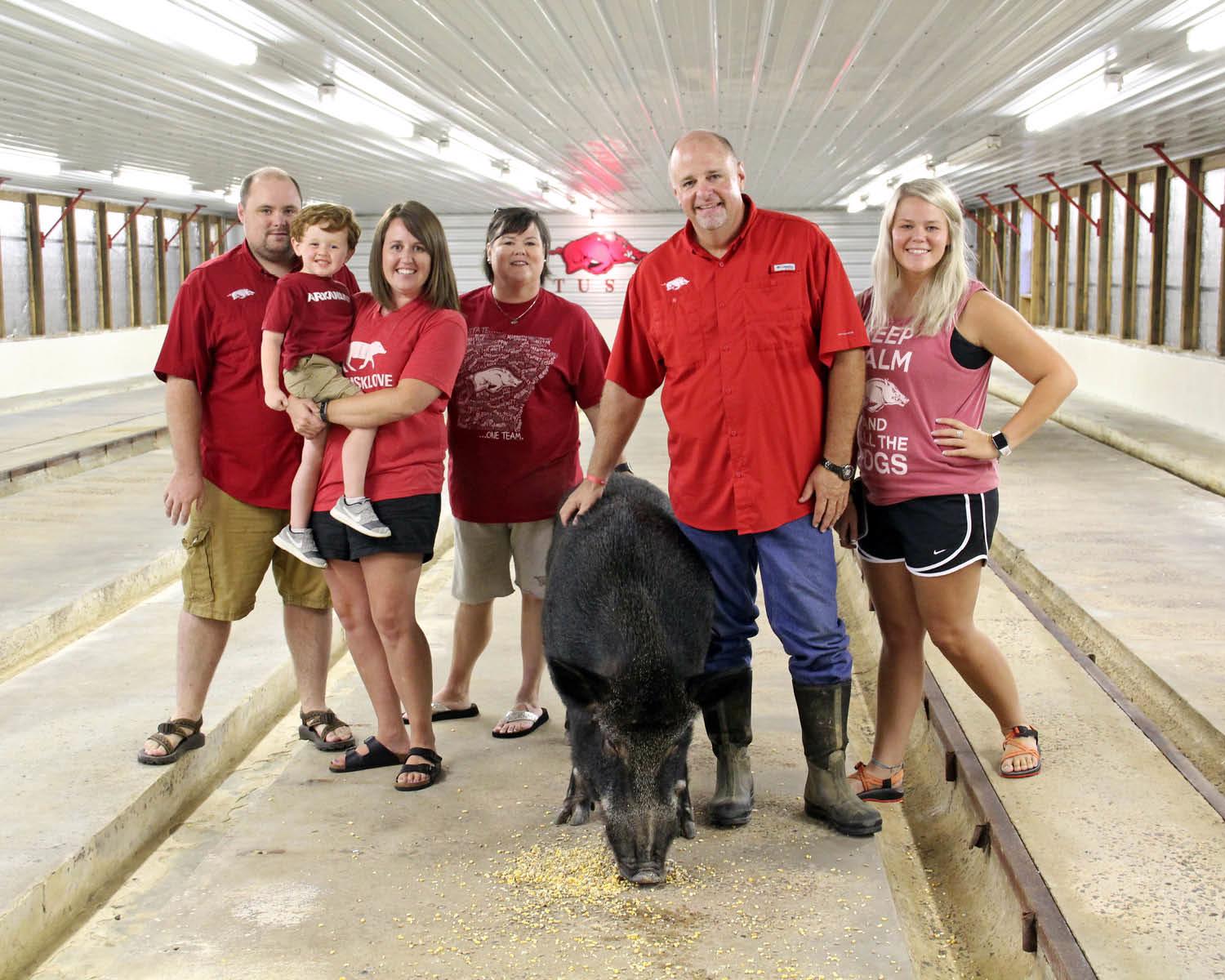 Livin' on Tusk Time
In honor and memory of Keith Stokes, enjoy the following story from the fall 2017 issue of Farming with Family & Friends magazine (now The Rural Scene) highlighting his journey as caretaker for the Arkansas Razorback live mascot, Tusk.
The following story was first published in the 2017 fall issue of Farming with Family & Friends magazine (now The Rural Scene).
Imagine entering a venue packed with 70,000 fans screaming for you as you take your place front and center.
This is the reality for rock stars, famous athletes, and Keith Stokes. Although, instead of the crowd cheering for Stokes, the cheers are for the 300 pound hooved beast he has in tow.
Stokes and his family raise Tusk IV, the live University of Arkansas mascot, on their farm in Dardanelle, AR. The family is tasked with caring for the Russian boar and prepping him for visitors and countless pictures on game day.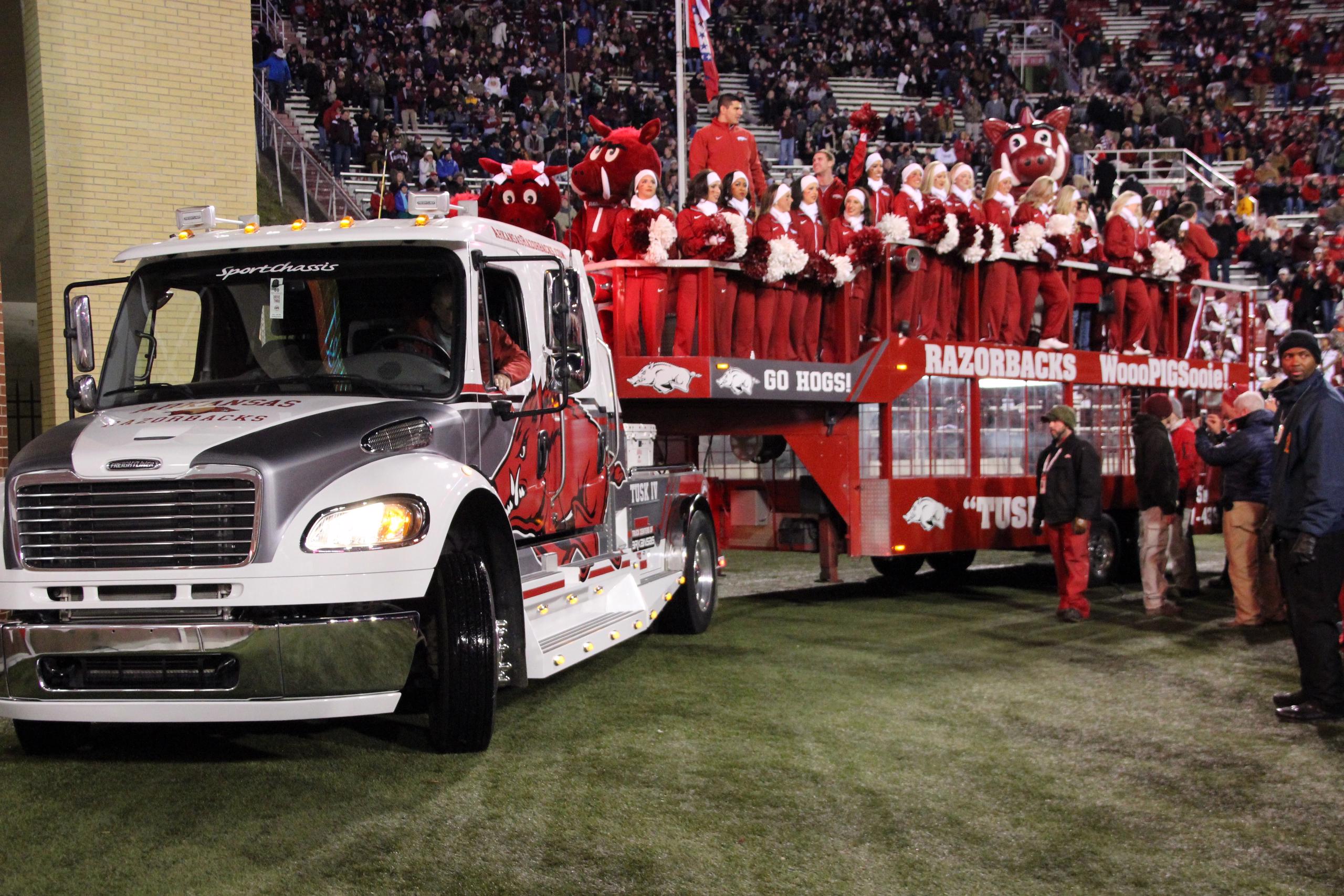 Although Tusk lives and is cared for on the Stokes' farm, Stokes is quick to correct anyone who thinks the family owns the mascot.
"A lot of people say, 'You own the Razorback mascot.' And I'll say, 'No, I don't own him. Are you a Razorback fan? Then you own him.' Every Razorback fan everywhere owns him. We just get to take care of him," Keith explains.
Stokes has been a part of the live mascot tradition at the University of Arkansas since its start in 1994. At the time, Stokes was president of the Arkansas Pork Producers Association and was approached by former football player and Razorback personality David Bazzel. Bazzel wanted to enhance the atmosphere of games by adding a live, authentic razorback.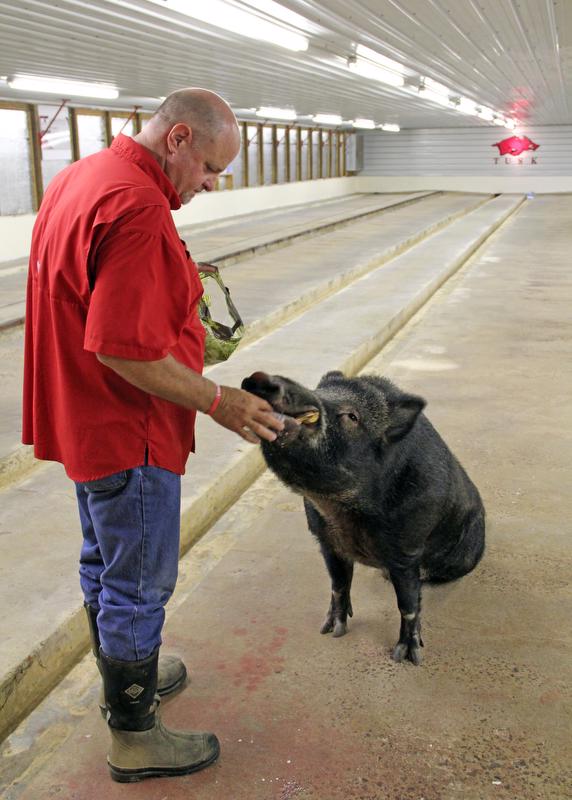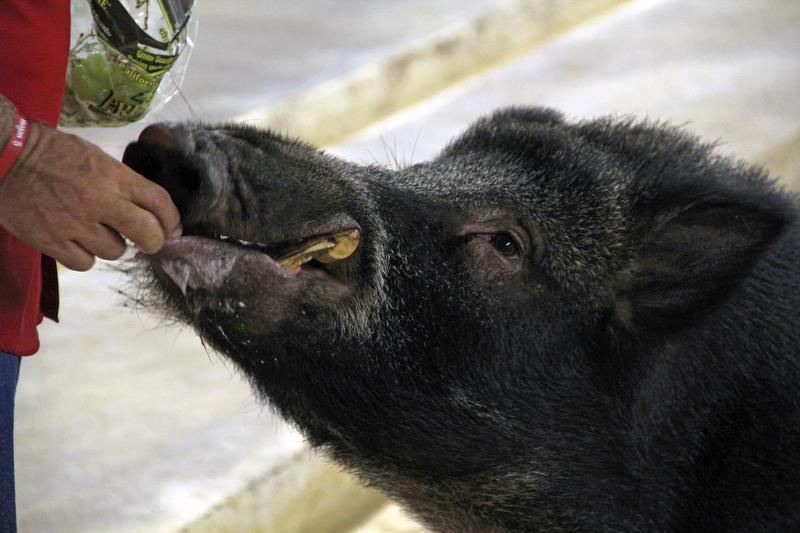 Looking for the correct breed, Bazzel made a number of calls across the country, including the New York City and San Diego Zoos, but came up empty-handed. With the grand debut of the live mascot just a month away, Bazzel reached out to Stokes, hoping he would have a solution.
Stokes made a few phone calls of his own and called Bazzel back within 10 minutes.
"I called David back and said, 'I've got you two of them in Greenbrier.' He said, 'You're kidding! I've been looking all over the world for these things, and here they are in our backyard?'" Stokes said, smiling as he remembered their conversation from 23 years ago.
Together, Bazzel and Stokes traveled to Greenbrier, where they brought back Tusk I. Tusk lived briefly at the Little Rock Zoo and Tyson Farms in Springdale before finding a permanent home at Stokes' Farm in the fall of 2005.
Tusk is different from most live mascots because each boar has come from the same lineage. The current Tusk IV is the grandson of the original Tusk I. Tusk II was his father, and Tusk III was his uncle.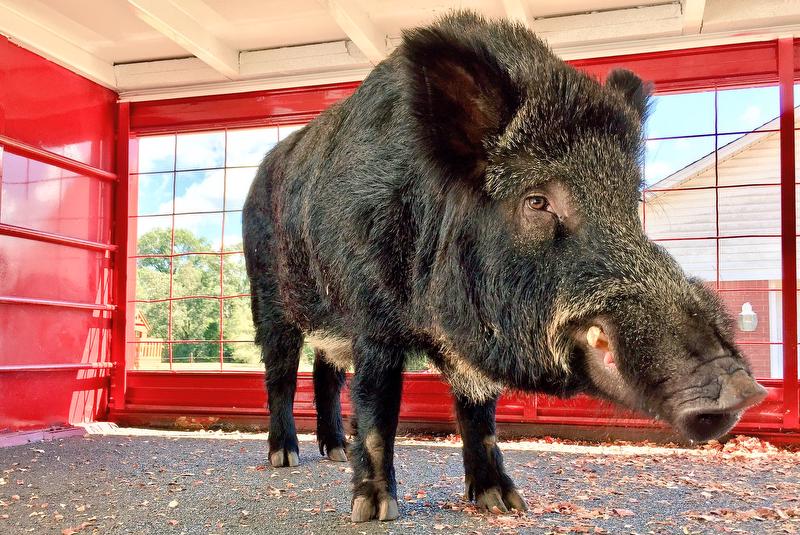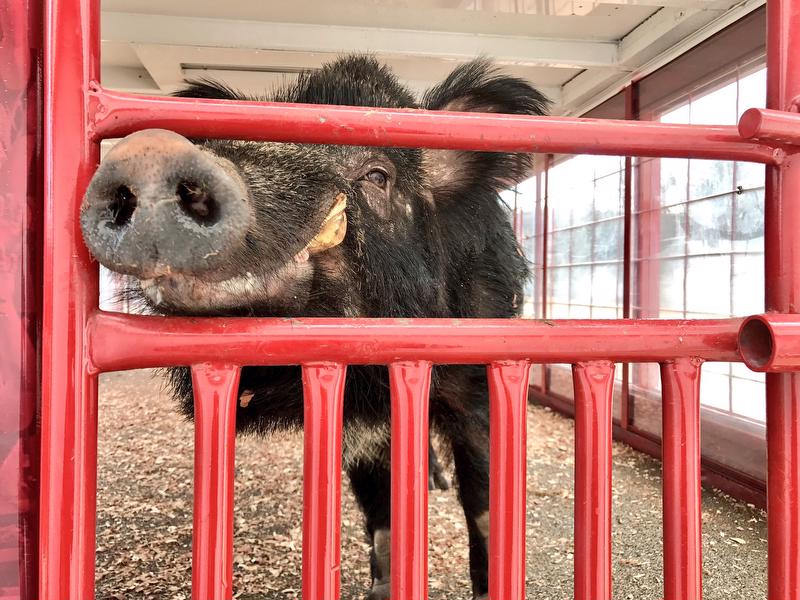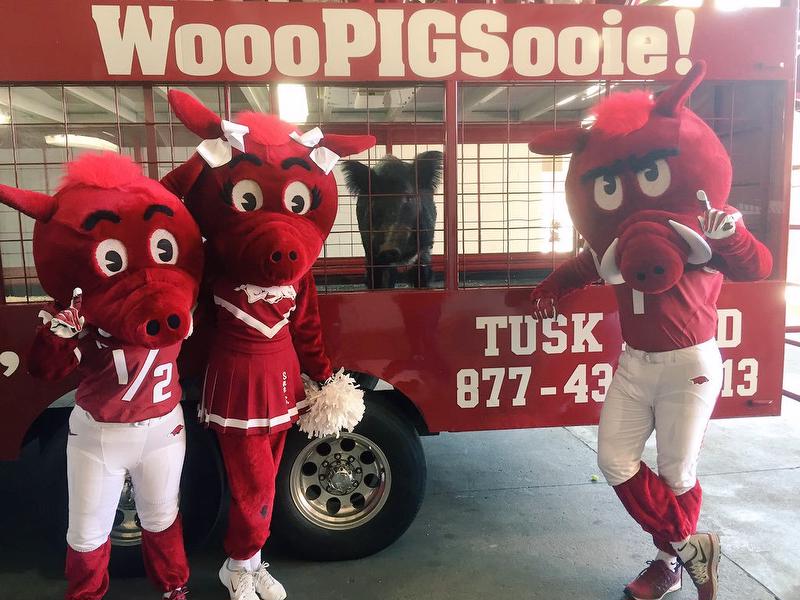 Taking care of the famous mascot isn't easy, but it's a job Stokes enjoys sharing with his family. A typical game day can last 16-18 hours for the Stokes family, and sometimes longer.
When traveling, Tusk is never left alone. The work of caring for the razorback is shared between Keith and his wife, Julie; their daughter, Abbey; their son, Chip; and his wife, Lori; and even their almost-four-year-old grandson, Colt.
Each family member has their own list of responsibilities. Chip helps drive Tusk's trailer, Abbey runs his social media accounts, and Colt shares snacks (grapes and apples) with the hog he affectionately calls Big Boy.
Despite the long hours and Tusk's demanding schedule, Stokes says the responsibility brings his family closer together.
"It gives us family time. We all have full-time jobs, and it's always go, go, go – but this is one thing we can do together," said Stokes. "Our lives revolve around it. Everything has to be planned around Tusk's appearances."
Even with the number of hours, miles, and effort the Stokes put into caring for Tusk, they remain humble to the core.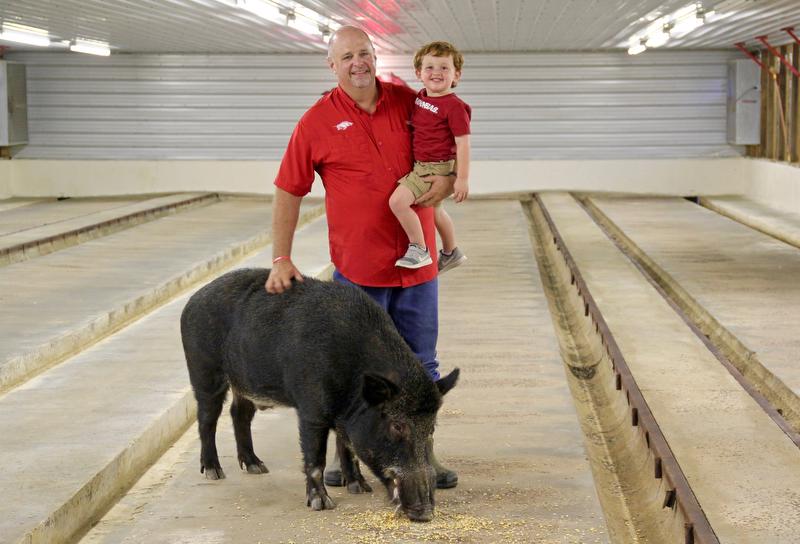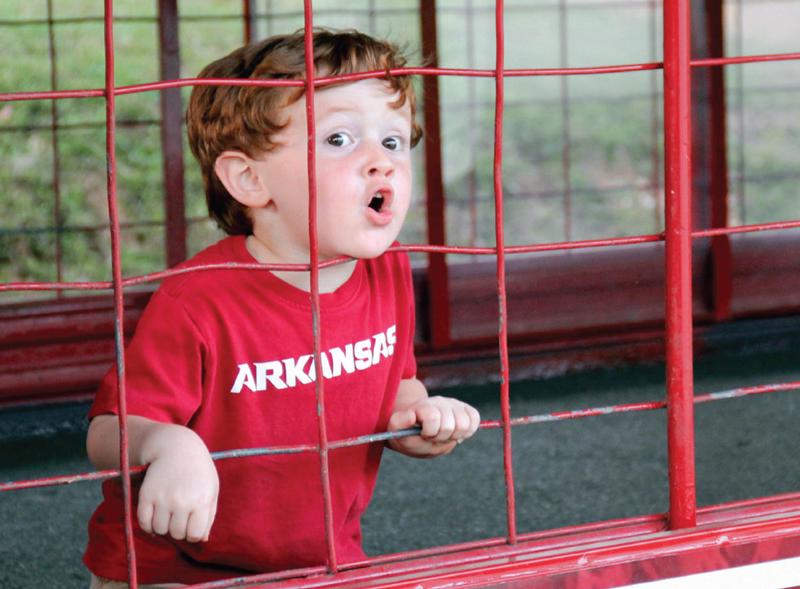 "It's a very labor-intensive job, but it's a fun job and we all enjoy it. We also take it seriously," Stokes said. "Our ultimate goal, and the one thing we keep in mind at all times, is that it has nothing to do with the Stokes.
What I would love for people to say is, 'I don't know who takes care of him, but whoever does, does a very good job.'"
While Stokes has made countless memories with fans while caring for Tusk, one story, in particular, sticks out in his mind.
Stokes and his family were headed to Dallas, TX with Tusk in 2008 to watch the Razorbacks play in the Cotton Bowl. Before they reached the Dallas city limits, Stokes decided to stop to fill up with fuel. He noticed a vehicle pulling a U-Haul trailer had been following him for quite some time and as he pulled into the gas station, the vehicle tailed behind.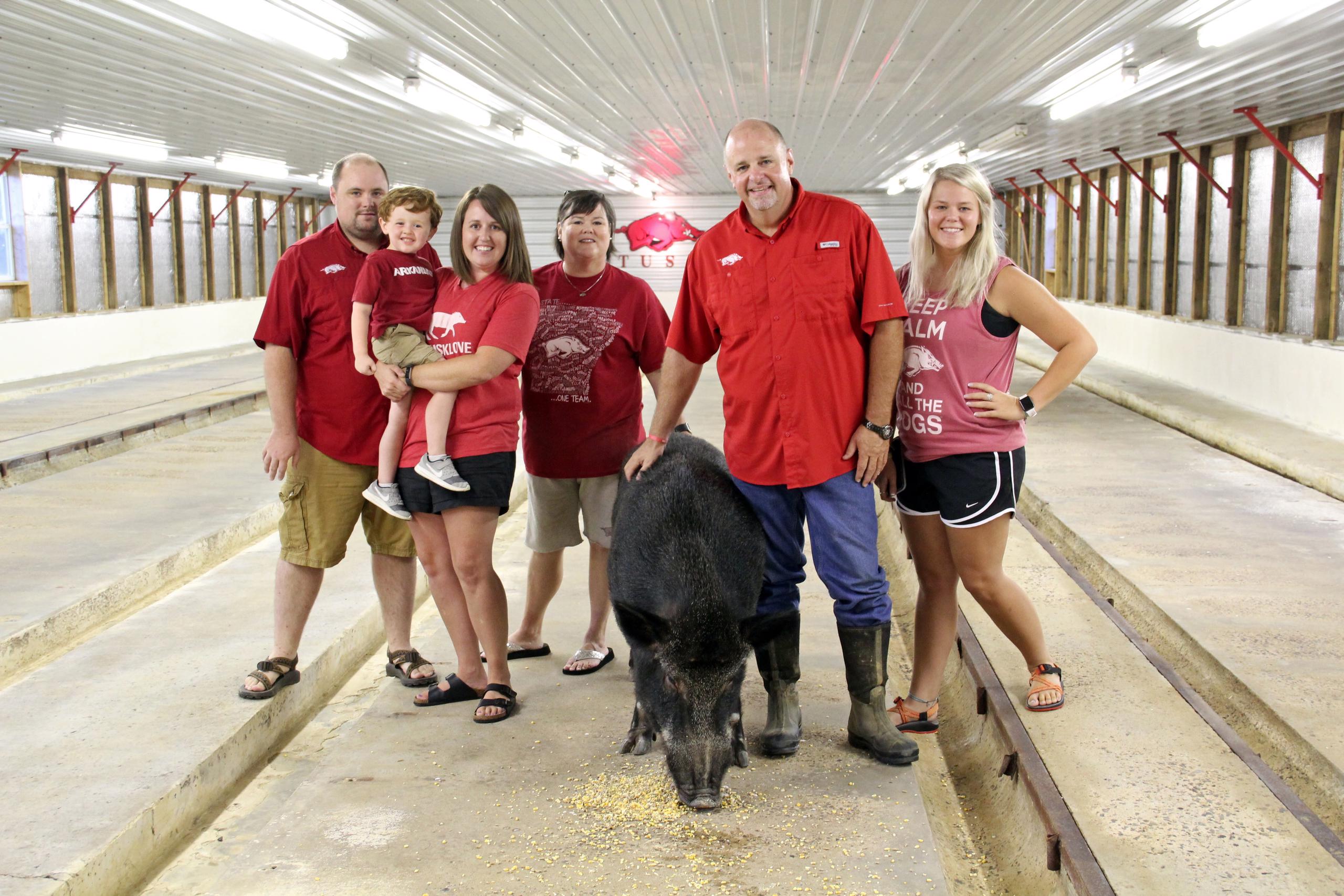 Soon, the Stokes learned that the young couple driving was en route to their new home in South Carolina. When they passed Tusk's trailer in Tyler, they drove almost an hour out of the way to snap a photo with the famous razorback.
Stokes remembers the young man saying, "My grandpa is a University of Arkansas alumni and is over 80 years old. He loves Arkansas more than anything. I knew my grandpa had to have a picture when we saw you."
Stokes asked what he would have done had they not stopped. He replied, "I knew where you were headed, and we were going to follow you all the way to Dallas if we had to." Simply telling the story brings a wealth of emotion to Stokes' voice. "It reminded me just how much Tusk really means to everybody," he said. "It made me realize how important doing this is for people."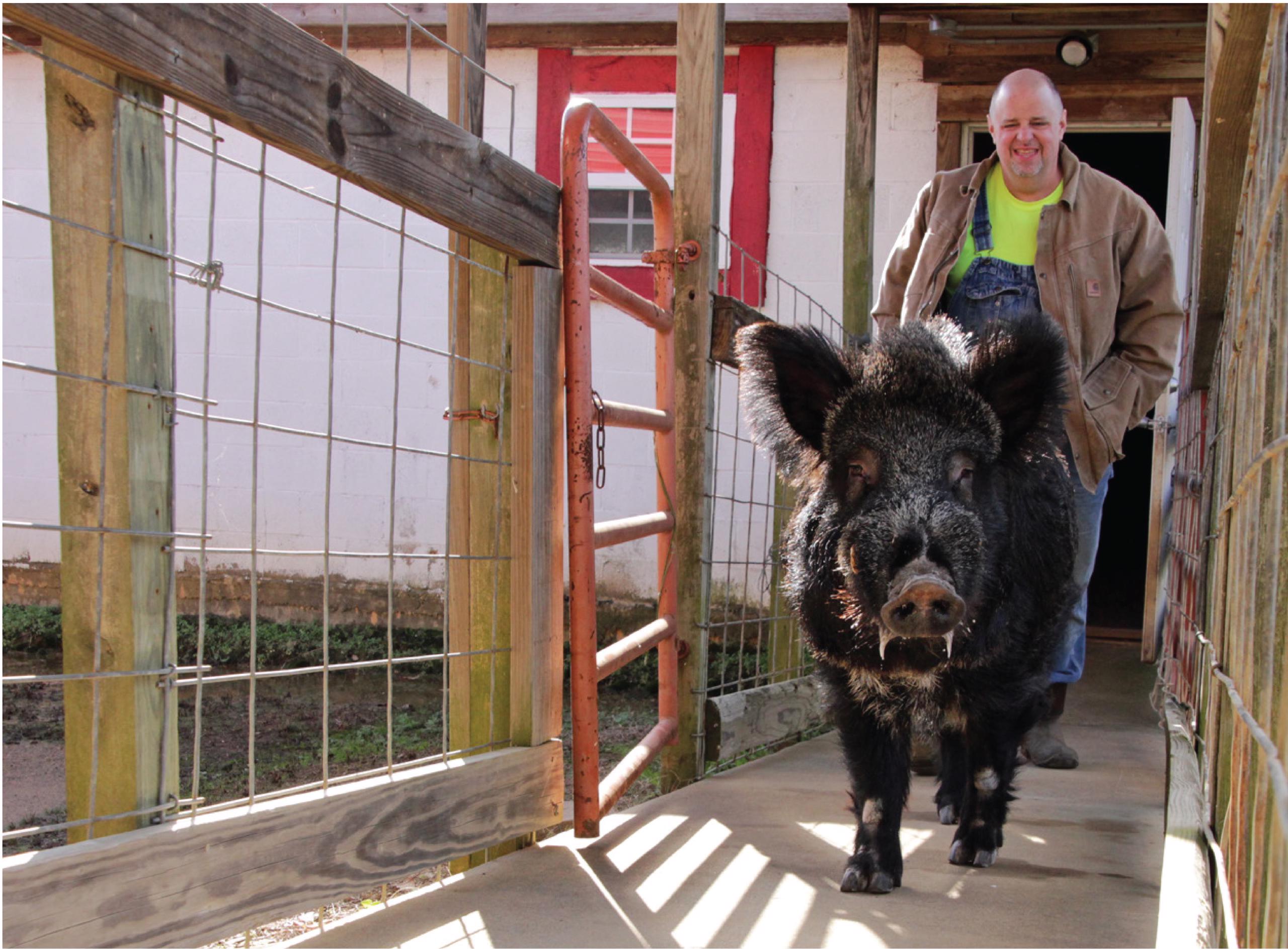 While Tusk may be Stokes' most unique claim to fame, it's not his only obligation. He also runs a cattle operation and owns timberland. On top of everything else, he serves as agriculture project manager for the office of Senator Tom Cotton.
Today, the average person is at least three generations removed from the farm. Stokes is a proponent of agriculture advocacy and recognizes the importance of telling the story of agriculture.
"Farmers do everything great. They're the hardest working, most dedicated people in the world, but there's one thing farmers don't do – we don't tell our story," Stokes said.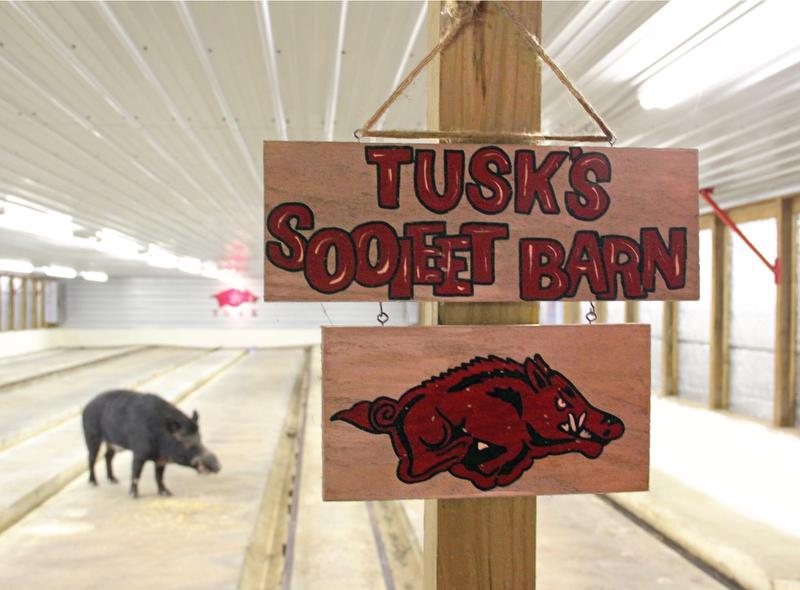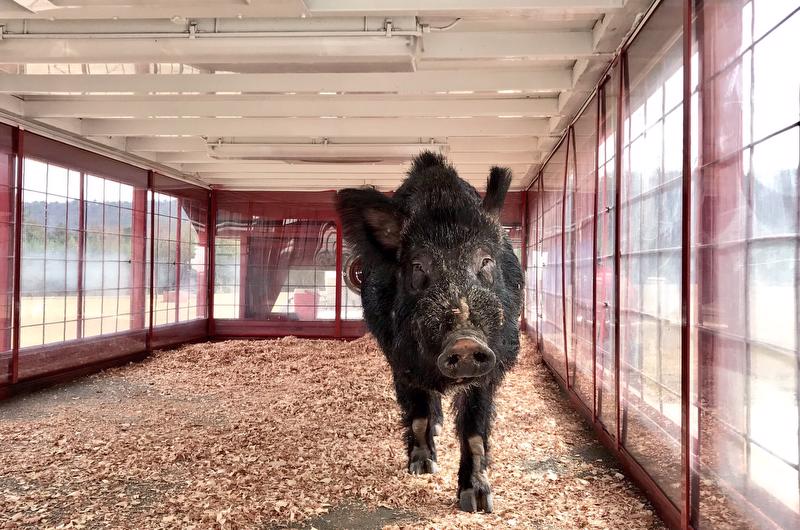 For anyone who meets Stokes, it's easy to see where his love and passion lie – with his family, agriculture, and, of course, the Razorbacks. Being a caretaker for Tusk allows him to combine all three.
While there's much to love, Stokes said his favorite part of the live mascot tradition may be its ability to unite people.
"It's something we can be proud of in this state. It's the one thing you can be, even if you're in a different state or country," he said. "All you have to say is 'Woo Pig,' and if anyone else from Arkansas is there, they're going to say 'Sooie!', and that brings people together. It can be strangers you've never met. It can be someone who hasn't lived in the state for 50 years. But they know Woo Pig Sooie."
As fans fill the Donald W. Reynolds Razorback Stadium this fall and start calling the hogs, you can bet the Stokes will be there too – with Tusk in tow and plenty of Razorback pride.