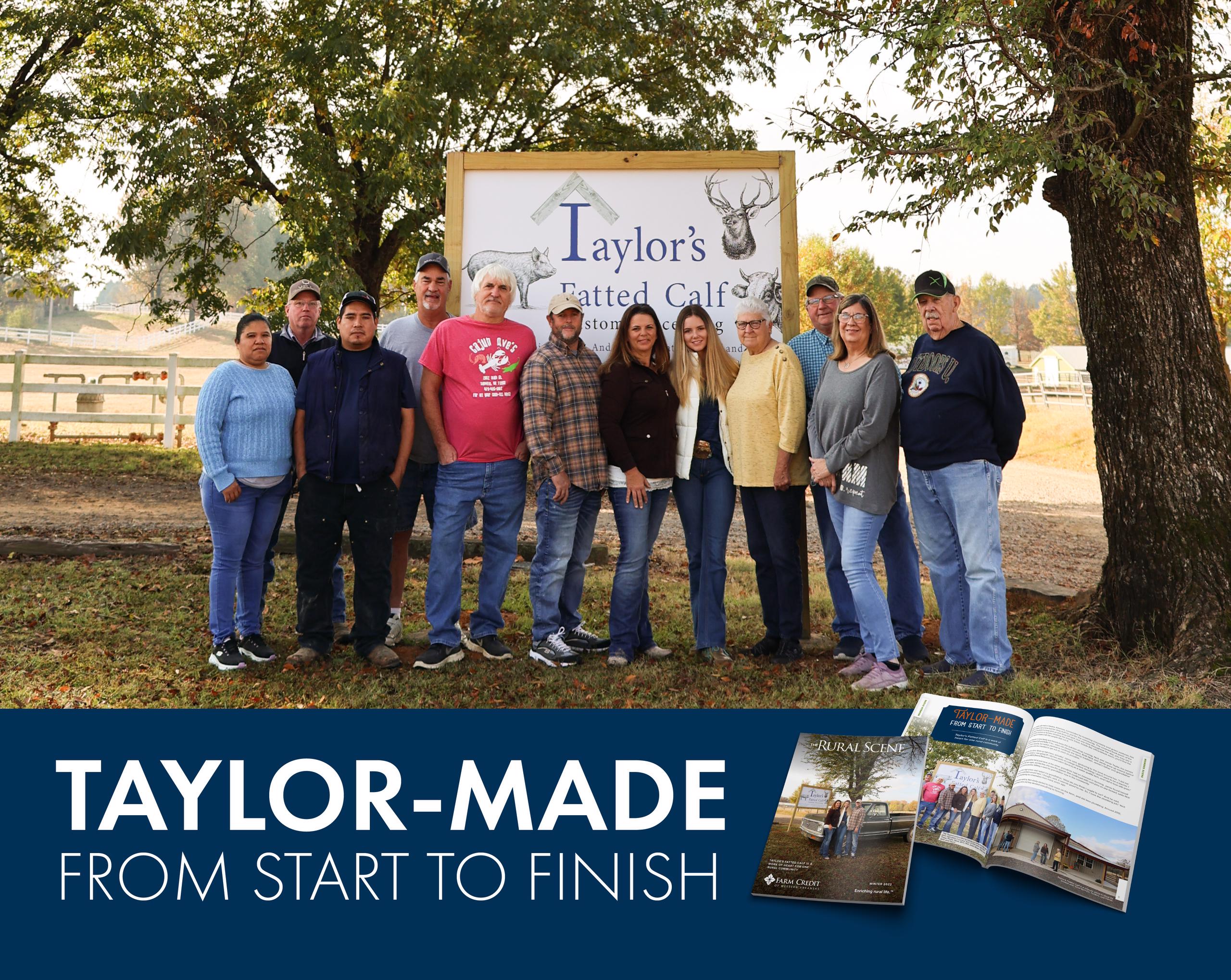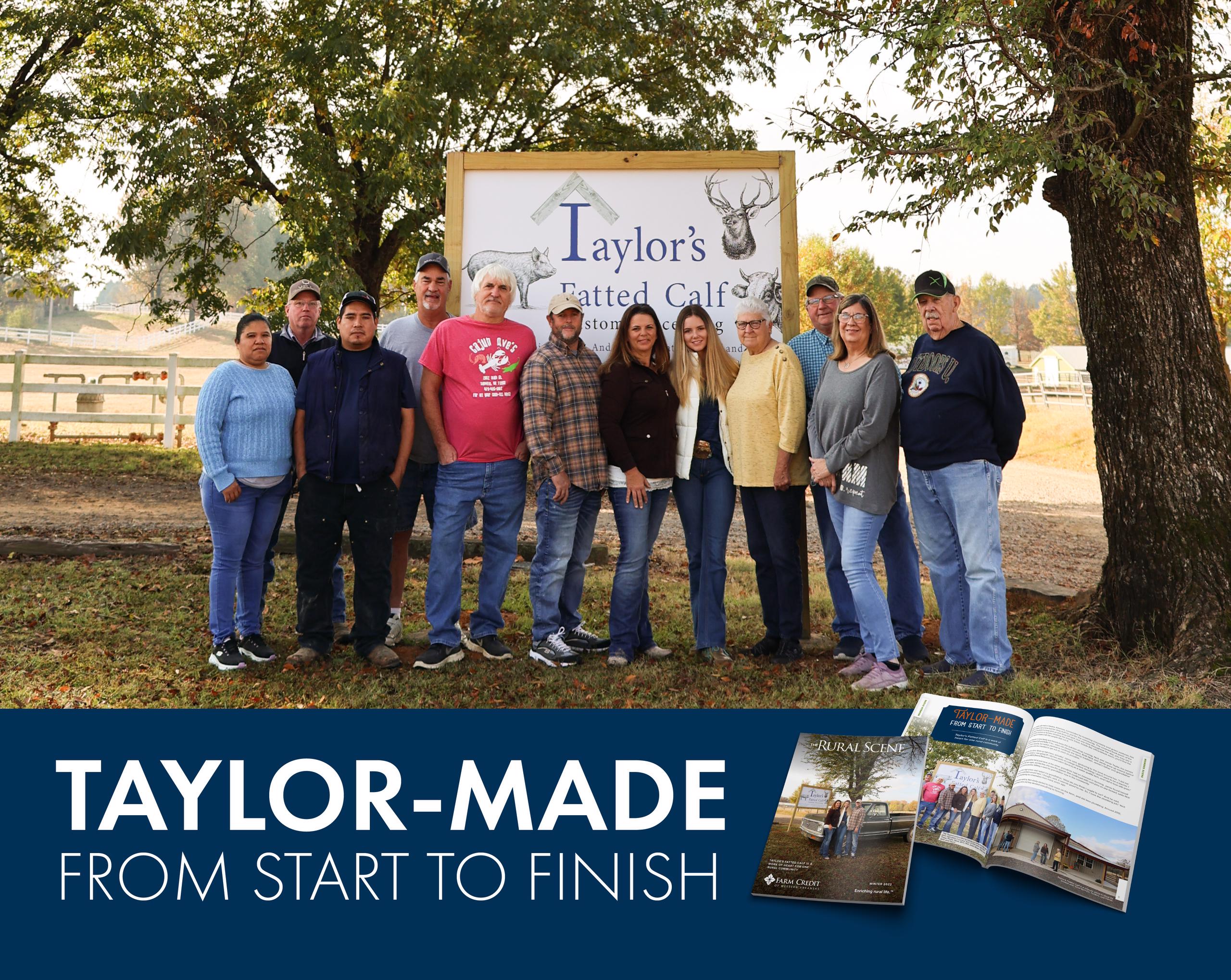 Taylor-Made from Start to Finish
Taylor's Fatted Calf is a work of heart for one rural community.
Down a dusty dirt road in Havana, Arkansas, surrounded by towering mountains and green pastures, lies Taylor's Fatted Calf, a local butcher shop built by and for the community. The covered front porch of the shiny new structure is a busy pick-up and drop-off spot, but any time throughout the day, you may see a group of local hunters or farmers shooting the breeze there. Inside the office/break room, you'll find the heart of Taylor's Fatted Calf: the people that run it.
A mix of twenty or more family and friends keep the butcher shop running. Nick and Jamie Taylor, the owners of Taylor's Fatted Calf and Rafter T Inc., were not always farmers. Nick and Jamie grew up around agriculture in some capacity, but neither planned to continue the family tradition. Jamie's father and grandfather raised poultry, and she intended to get out as soon as possible.
"I grew up on a farm. Grew up right here, actually," Jamie said, gesturing to the land around her. "I did not want to do chickens. I was going off. I did two years in college before deciding I didn't want to be a teacher. I worked at the NRCS [Natural Resources Conservation Service] as a water quality tech, and I fell in love with grass."
After her grandfather fell ill and none of the other grandkids had an interest in farming, Jamie found herself back on the farm again, and this time, she saw the appeal. She continued with odd jobs as she farmed while Nick was a full-time plumber, fulfilling a need his grandfather saw in the community.
"I was still in high school, and I asked my grandfather, 'What do you think I ought to be?' And he said, 'There's no plumbers around here.' I thought, well, it sounds good to me. So, I took the plumbing job," Nick said, remembering his conversation from many years ago.
As the years went by, Nick slowly started to help more on the farm and did less plumbing. Around 2012, Nick joined Jamie, and they devoted everything to farming.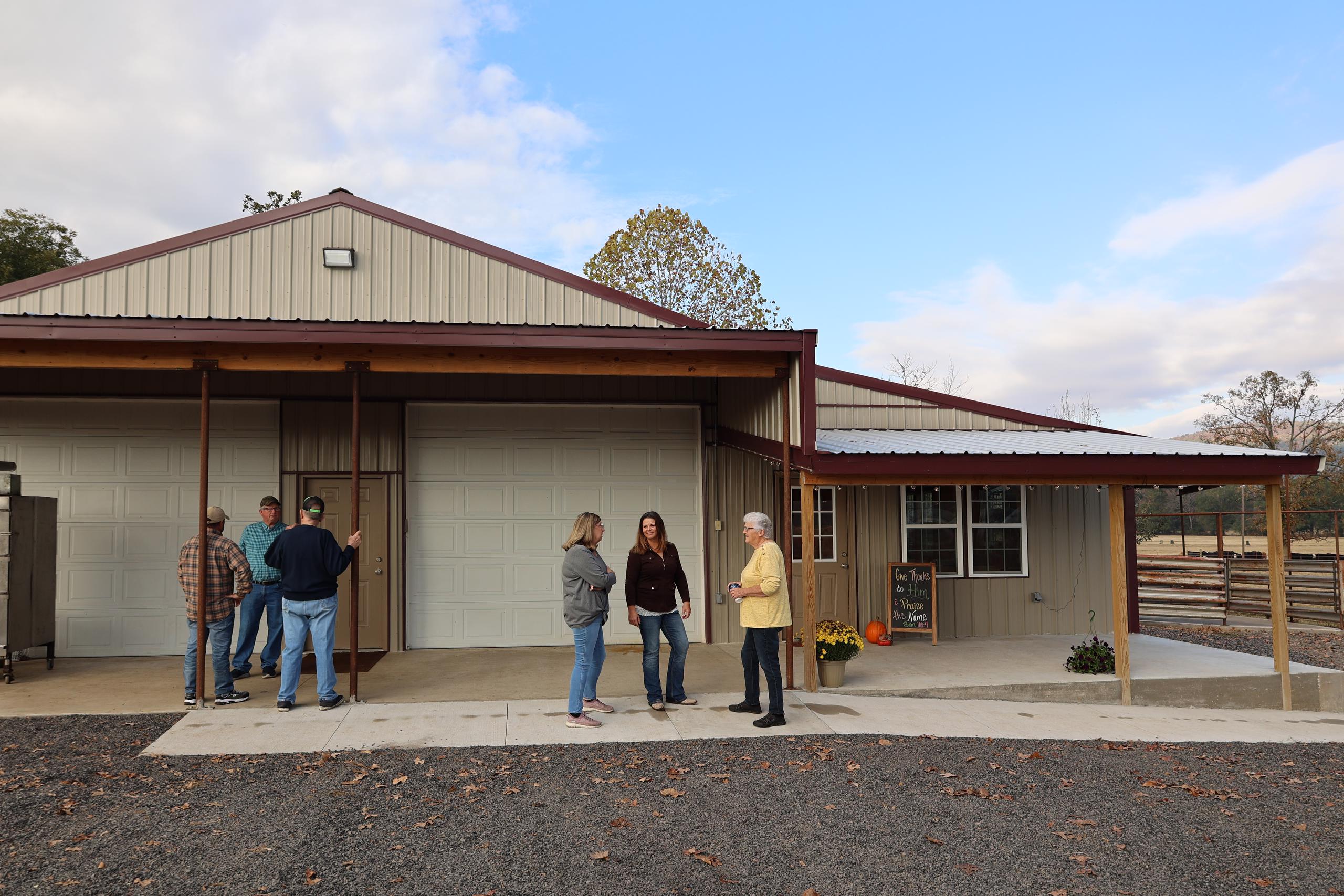 HUMBLE BEGINNINGS
With no backup plan and a lot to learn, the couple admits that it was not an easy row to hoe. When it came to cattle, they had to learn how to farm for a living. "We learned and learned and learned, and we were like sponges," Nick said. They soon found that Jamie's passion for grass and forages would help them take their cattle operation to the next level. "We have decided that, yes, we have cattle, but better cattle are the way to show how good we grow grass," Jamie said.
Farm Credit played an important role in the Taylors' farming history. They got their first loan with Farm Credit around 2004 and have been members ever since. They built their farm and equity a little bit at a time. In 2015, loan officer Lora Briggs joined Farm Credit, and she found the Taylors were just as much a resource to her as she was to them. "It's really nice when you walk into a new job as a loan officer and your customers sell you Farm Credit," Lora said. "I feel like Nick and Jamie are the model customers. They know their business when they come in."
Beyond providing lending opportunities, the Taylors have found the mentorship and ag expertise at Farm Credit to be a valuable resource as they built their operation. "If you don't know, that is a very great tool. We've been farming since 2000 and I still use this tool," Nick said. "I ask what are the numbers? What's your thoughts? We trust them to help us make those decisions together." Lora was also involved when the Taylors made one of their biggest decisions yet: building a meat processing facility.
It's really nice when you walk into a new job as a loan officer and your customers sell you Farm Credit. I feel like Nick and Jamie are the model customers. They know their business when they come in.
TAYLOR'S FATTED CALF
Jamie Taylor had the dream of building a meat processing facility for years, but Covid spurred the couple to turn their dreams into reality. When they contacted their local butcher shop to see when they could bring in their cattle to be processed, they found they hadn't been scheduled after their last visit. The wait was two years. "I told Nick, 'I really need a butcher shop. It's a need. It's a community need.'"
Soon after, the Taylors began construction on what would become Taylor's Fatted Calf. "This has been a community effort," Jamie said. "We have had people swing by, spend a few hours helping build. We've had neighbors who would come in after work and spend six, seven hours and help throw up some metal. It's been a loving community that has helped us get it built because they could see the need also."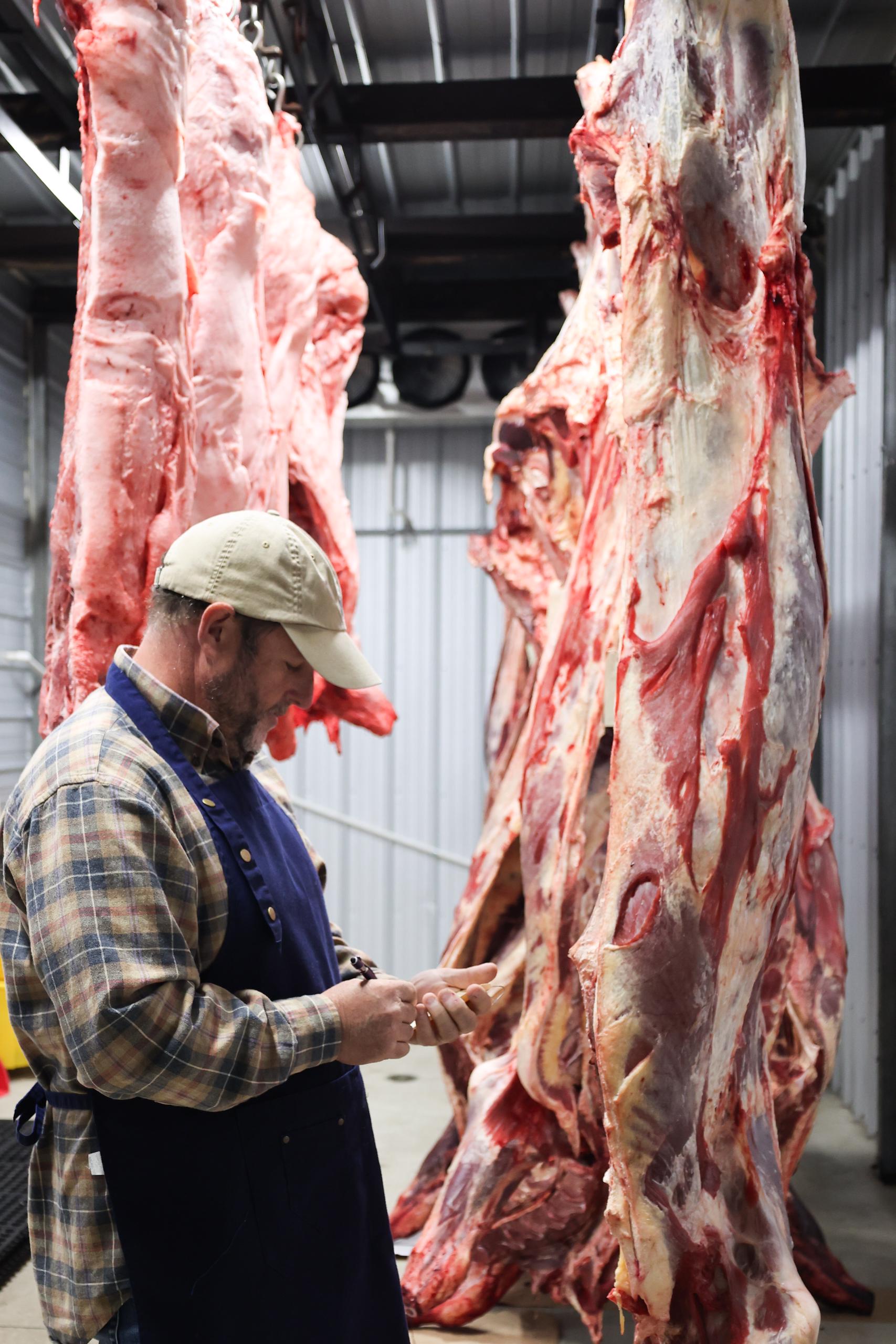 THE RIGHT BUTCHER FOR THE JOB
Construction continued and they learned as they went, but they were missing one key element: a butcher. Neither Jamie nor Nick had any training in meat processing, but they knew it would all come together. "We just relied on the Lord that He was going to bring us somebody by and He brought him by."
As fate would have it, a butcher did come along. Nick's cousin lived next door to a butcher for years and decided to call him one day to see if he was interested. He was. Larry Beatty came to visit the Taylors and was hired on the spot. With 47 years' experience cutting meat, they had found the right man for the job. Mr. Beatty and his wife, Gail, have become part of the Taylor's network of family and friends that help make Taylor's Fatted Calf possible.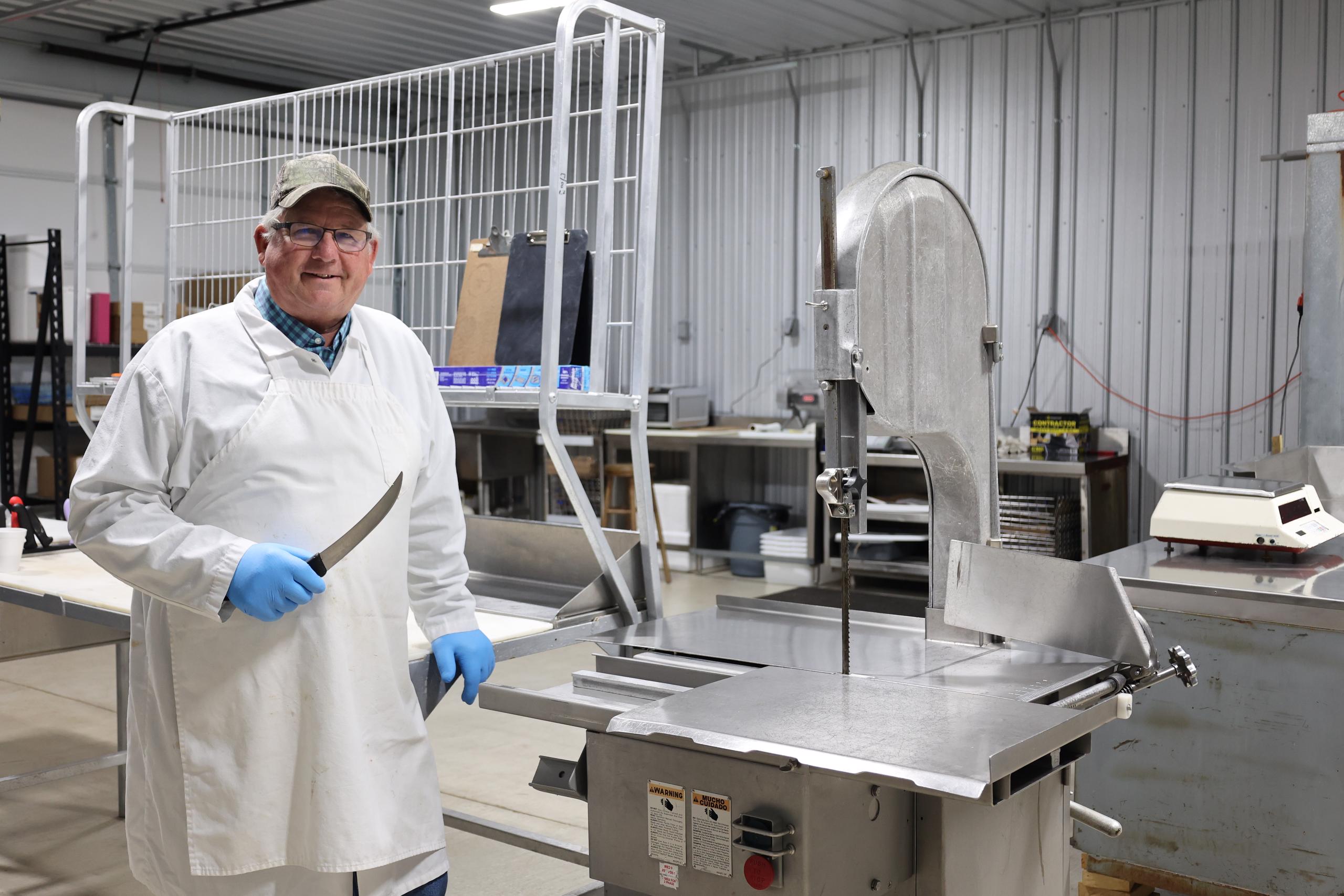 WHAT'S TO COME
While the Taylors have successfully opened for business, they are always keeping an eye towards the future. The recent passage of the Arkansas Meat Inspection Act and subsequent Arkansas Meat Inspection Program will allow the Taylors to sell certified inspected products, opening a whole new revenue stream. "Our tax dollars are actually at work for us," Nick said, with Jamie agreeing. "It's a huge deal."
When they think about the future, of course, the Taylors think about their daughter, Morgan, and her role in the family farm. "My daughter is fully involved in the farm. I work with her," Nick said. "She is fully involved with everything on this farm. We love working with her." While they would love to see Morgan return to the family farm, they think there is a greater lesson from what they've built. "I want Morgan to realize we had a dream. We reached that dream. We'll have another dream. And I want her and every young person to realize you can reach those dreams," Jamie said.
While they realize farming is not for everyone, they couldn't imagine doing anything else. "The reason we're able to do what we do is because we love it," Jamie said. "We don't have plans to retire. There is no retirement for us. As long as we're able to walk, we'll be farming."
The Taylors welcome you to visit their operation and contact them about your meat processing needs. They are located at 10918 Rocky Point Road, Havana, AR 72842, and can be reached via phone at (479) 476-BEEF. The Taylors would like to extend a special thanks to their community, their employees, and all who helped make Taylor's Fatted Calf a reality.